The first big thing Mr. Magic and I really started thinking about was the venue. I really felt like a venue would set the tone for our wedding, and he basically had no idea what to do, so he went along with me on our venue hunt. We looked at a lot, but these were the six main contenders.
Venue #1: In my mind, I had The Perfect Venue alllllllllll picked out, and had been lusting after it since we visited it in May 2010 with a group of friends. So yes, I wanted to get married there (and, ok, I may have already priced it out) six months before we got engaged. I'm nothing if not efficient (except when I am inefficient...or procrastinating...or disorganized).
OK, so what was this "perfect" venue? Bald Head Island of course! It's a tiny island off the NC coast...you can only get to it by ferry and there are no cars there, only golf carts!
Ceremony in this intimate, romantic chapel (the water is behind it!)
Reception under oak trees and the Old Baldy Lighthouse, under the stars.
Pretty huh? Also, wayyyyyyyy out of our budget, and not as convenient as some of the other venues...it is about one hour drive from some of my family, but four hours drive from me, Mr. Magic, and most of his family. So, this venue (although really lovely) was just not right. I know some Bees are getting married there and all I can say is, I am way, way jealous. Also, I make a lovely wedding guest/helper.
Venue #2: Fearrington Barn in Pittsboro, NC. I had lusted after this venue even before the Bald Head Island one. It's only 30 minutes away from Mr. Magic and I, it's very romantic, and they have striped cows. See?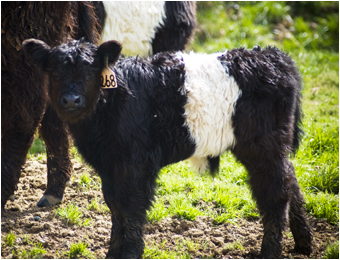 Alas, we had already been to one wedding here, and while it was very lovely, we wanted to do something different. Oh and also, it was wayyyyyyy too expensive also. See a theme here? Next!
Venue #3: We checked out Chapel Hill Bed and Breakfast because it met our price requirements. I'm a quick learner, so after being wooed and broken hearted by the fancy-schmancy places, I figured I'd try to stick to our budget.
This place was nearby and very affordable. Unfortunately, where we would have wanted to have the ceremony was right off the road, and while it's not a super busy road, we definitely noticed the traffic while we were just there visiting. Nixed.
Venue #4:
Snipes Farm
. This place is not super well known in our town, but it
is
known among the indie kids. I definitely do not consider myself to be an "indie kid" but I am friends with some of them! They won't let me in their club because I wear too much pink, have blonde hair, listen to pop music and country, and think those fake mustaches on a stick are absolutely ridiculous.* I know. My one reader probably just left...first I insult
sweetheart lace gowns
, now this. I've totally lost any audience I ever had. I'm just saying, I am misunderstood by the indie crowd...kinda like
Pam from True Blood
.
Anyway, Snipes Farm was local, affordable (one of the least expensive sites we found), and "cool." We went to check it out in person, and they had this great tree to have the ceremony under:
and this cool "barn" to have the reception in:
But...well, Mr. Magic thought it was a bit too country...
again
. I wasn't a huge fan of the concrete floors in the barn. While I thought it had potential, Mr. Magic was not feeling it - and Lord knows I want him comfortable and happy on the wedding day! This place got the axe.
Venue #5: The Barn at Valhalla. Yes, Viking Heaven. It's owned by a guy named Duffy, and he has a crazy website that lists a lot of rules. See?
There are beautiful wood walkways, a lake, a gigantic stone outdoor fireplace, and a gazebo (where Duffy told us that more than one couple has gone to consummate their marriage. No judgment...ok, a little...).
And it was in our price range! My concerns were that the inside of the actual barn was kind of small, so the reception would be an indoor and outdoor reception. How does this work? How do people know when we are dancing? Am I going to need a bullhorn to alert them that we are cutting the cake? Are all the boys going to be in the gazebo while the girls are tearing it up on the dance floor in the barn? And if so, is that a problem????
I have some anxiety, can you tell?
Venue #6: We had one more place to check out, and I was really excited about it! Why? Because one of the owners of The Inn at Bingham School was French. Ok, he was actually from Texas, but he spoke French. And I love anything French!!!
pretty huh?
So, this is a historic site. It was once a boarding school for young men but now it is a beautiful bed and breakfast. The grounds are lovely, the rooms are luxurious and amazing, and it felt perfect for a beautiful, outdoor, under the trees wedding with a tented reception. Ahhhhhh. AND...bonus! There were several friendly cats that hung out on the property!
What was the problem then? Well, I had no problem...except for the Confederate memorabilia in the Inn (hey, we live in NC and history is history...but still...not giving me a good vibe). And then there was the mention of the slave quarters and the fact that some of the larger stones on the property might have been slaves' gravestones. While this is not uncommon in the South, again...still not giving me good juju. Plus, Mr. Magic did not like the place, and both our mothers thought it seemed like just a "nice yard." I think they were totally freaked about us not getting married in a church or other physical structure. Also, this place was about twice as much as Snipes Farm and Valhalla. Dunzo!
Soooooooo, what'd we pick? Well, if you've been reading along you'll already know, but those of you who are new and were able to keep reading after that indie mustache dig should be rewarded. You will be excited to know that we chose...the...
How many venues did you have to look at before finding the one? Did the venue you chose have a list of Dos and Dont's as hilarious as mine?
*If you want mustaches on a stick at your wedding, more power to you...I just have like, a mental block when it comes to those things! Please don't hate me....*