And not a talent that I have, either. Sidenote: when I was younger, I convinced myself that I was a super awesome skier and that skiing was My Talent. When I finally went skiing at the age of 20, I realized that this was not true. I am not a secret talented skier, nor am I a secret talented flower arranging fool.
Let's start at the beginning.
I'm kind of lazy. So even though I knew that a Farmer's Market existed in town, and in the next town, and in the capital nearby, um, I never quite made it over there. Until there was a ring on my finger!
Cause everyone knows...
=
Well, for this Southern bride it does, anyway.
Since the one year countdown has officially begun (362 days left!), I figured it'd be a good time to check out some flowers and see what NC has to offer this time of year. We're planning on having my bouquet professionally done, and the girls' flowers too. But the centerpieces are totally do it myself, with the
lovely milk glass
I have been collecting all this time - yay for long engagements!
Mr. Magic, having missed me for a week while I was off baby sitting, even offered to go to the
State Farmer's Market
with me! Course by the time we made it out of the house, only one of the farmer's markets was still open. Whatevs.
First, we found some awesome pumpkins! And they are cheaper than any other pumpkins I have seen so far.
Yay for pumpkins! I mean, I'm not gonna have like a million jack o lanterns chillin' or anything. I'm just thinking something like this: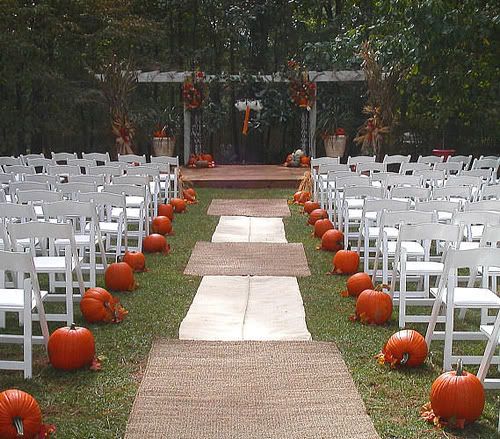 Or this: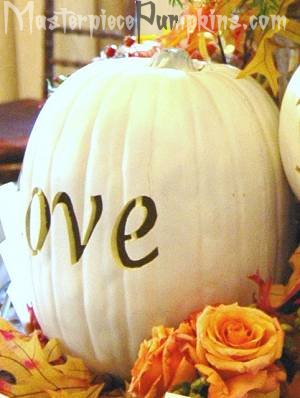 source
Then, we stumbled upon some flowers. Ch-ch-check it out!

These are pretty and colorful, no?
I bought these for 12 bucks!
Like my enormous sunglasses? I know, they are kinda ridiculous.
OK, so here's where things got all challenging. I thought to myself "Sweet! Ima go home and divvy these up into some milk glass vases. So easy! Dunzo!"
Um, hmmm. NOT so easy. Turns out, there is a reason people pay to have professionals do this. Who knew? Certainly not me. My apologies to everyone in the flower industry.
They aren't bad, but they look a little...rough. I think part of the problem is the extra leafy greenery. Maybe the stems are too long. Maybe it's too colorful. Maybe someone can just volunteer to do this part for me?
Did you ever tackle a seemingly easy wedding task, just to find that it was much more difficult than you anticipated?