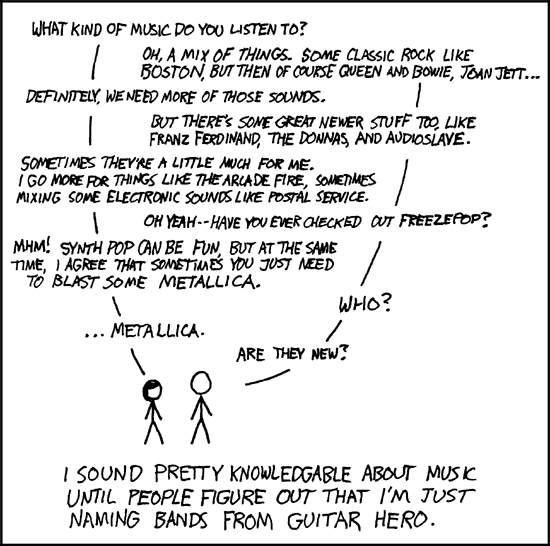 source
I think Mr. Magic might think I have
no
taste in music. Or maybe just
bad
taste. Either way, we don't like the same things. I am into country, and mainstream pop music (I know, God forbid, right?!?), and whatever cool alternative or rock music trickles my way. To give you an example, I recently went to 3 concerts in one week (that's not normal for me though).
Concert #1: Easton Corbin at the NC State Fair
Concert #2: STP at the Raleigh Ampitheatre (Mr. Magic is in love with Scott Weiland and I went to support him in his relationship with a rock star who sometimes wears eye liner)
Concert #3: Darius Rucker (You may remember him as Hootie from Hootie and the Blowfish, if you are as old as me) at the NC State Fair
Mr. Magic did not attend either of the country music concerts with me. As you can see, he is into, um, other music. Music that is somehow deemed cooler, especially in our group of friends. He thinks country music is too simple, in that the lyrics are actually what they are trying to say. Also, I think he's just kind of a Yankee at heart. I mean, he was born in Northern Virginia. Technically below the Mason-Dixon line, but too close to Washington D.C. for him to actually get any good Southern-ness in him.
I mean, he didn't even know what
fat back
was, for Pete's sake!
Anyway. I digress. We do have VERY different musical tastes, which makes it sort of interesting to decide what we are going to play during the different parts of our ceremony and reception. The other day, I asked him if he thought it would be fun to play some less-traditional music while people are taking their seats, or during the cocktail hour. I named this song, and he agreed to it - although it could have been one of those, "I am just saying "Sure, babe" now because I am not really listening to you, but later I will pretend we never had this conversation and ban this song and all similar tunes."
Anyway, here's the song he agreed to!
Bahahahaha. Wouldn't this just make you want to sing along and dance and laugh if you heard it at a wedding? I mean, if you are like 25 and older. If you are younger, you might be confused. Consult
this article
to learn more about this talented boy band known as New Kids on the Block from the 80s and 90s.
Do you and your SO have differing tastes on something that is making it challenge to collaborate on wedding plans?