For those of you who know me as a label whore, I'd just like to say that I fell in love with these shoes BEFORE I knew they were Christian Louboutins. OOPS! I was gonna build up to that part, so the big fancy designer reveal would be more climactic. But I'm impulsive, which is really what this blog is about.
I have a problem. I'm not sure what to call it, other than impulsivity. If I want a
Sun Drop
(an extremely delicious NC soda), I want it now, and I will get it now, or ask Mr. Magic to get it for me.
If I want potato pancakes, I want them now, I want them from
Perkins
, and if I have to eat something else, you know, I'll do it, but I'll be inwardly seething the whole time.
Maybe it's not impulsivity...maybe it's greediness. (OK, that's an ugly thought...am I greedy??? Nooooooooooooo. I'm just...specific...in my needs....)
OK, well anyways, back to the shoes. I was trying to find this post on weddingbee that I had read, loved, and needed to steal some ideas from (apparently planning a wedding is all about stealing ideas). So I was going through pretty systematically and stumbled upon Miss Scissors's blog about her wedding shoes entitled "
In L-O-V-E with the Love Flats
." Those smart readers who know Christian Louboutin and know
what Love Flats are
will be gasping, as this is one iconic and historical shoe. Apparently, Princess Diana inspired these shoes! Christian Louboutin designed them for her because he always wanted her "to have love at her feet." Royalty, sentiment, and the shoes are pretty too?!? I'm sold!
But again, I did NOT know all this at the time- I just looked at Mrs. Scissors's blog and said "OMGthoseshoesaresoprettyyyyyyyyyandthey'reflatsIneedthemnowwwwwwww!"
Wanna see?????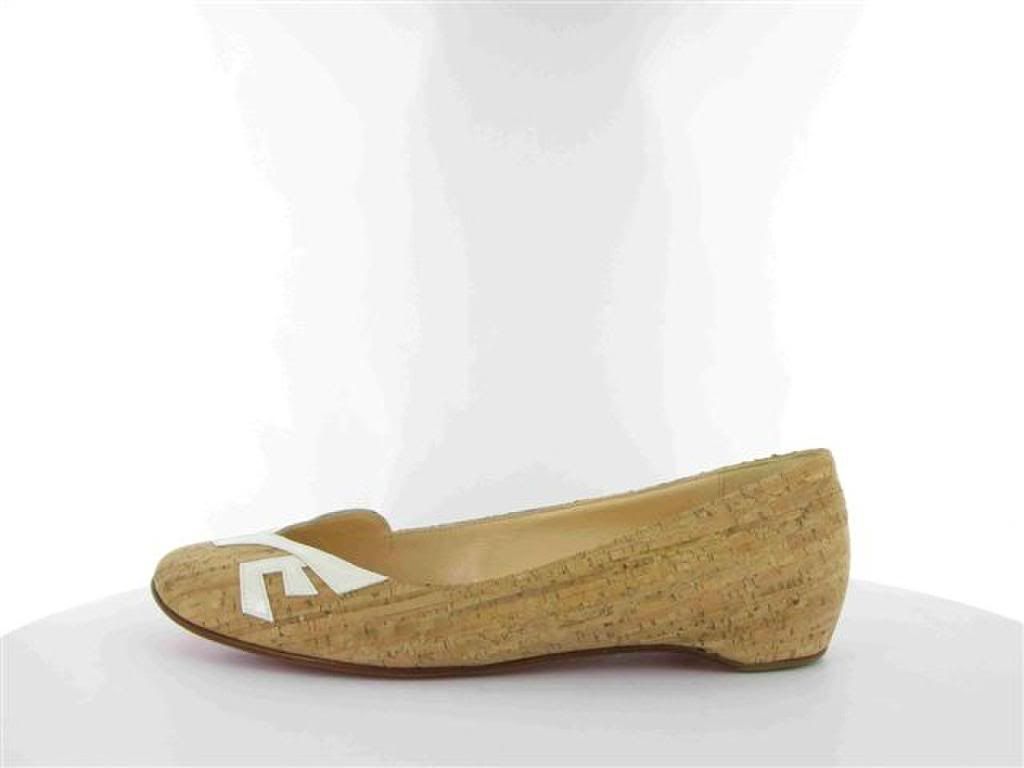 The black shows a better pic of the shoes but I want the ones in cork!
THEN I found out they were Louboutins, which made my heart patter and this funny feeling arrive in the pit of my stomach. Was it love? Lust? Excitement? The knowledge that the most beautiful flats EV-ER are too expensive but I will buy them anyway and rock them forever for the rest of my life, and will only feel marginally guilty about it, and when I do feel guilty I'll just wash that guilt down with a Sun Drop and a plate of potato pancakes from Perkins with a side of sour cream and two strips of bacon?
Yes, Yes, Yes, and YES.
But then I start hearing that you have to put your name on a list. Uhhhhhhhhhhhhhh, this might be a little bit out of my league (or, we can look at it as one of the most exciting purchases EV-ER). Do they sell Louboutins at our local Nordstroms? No, because I live in NC and no one needs Louboutins in NC. But they do sell them at Neiman Marcus, Saks, and two boutiques in Paris where I am heading in July.
Some of the initial excitement might die on these shoes, but until then, I'll be putting Neiman's and Sak's numbers in my cell phone asap and making runs to the Circle K for a Sun Drop.
Did you maybe make some impulsive purchases? It's ok. It's for the Wedding!