I'm a bit obsessed with the upcoming royal nuptials of Prince William and Kate. I've always been a fan of the royals since I couldn't sleep one night in 1986 and caught the Prince Andrew - Fergie wedding. I was six years old.
And then, you know, I practically grew up with Princes William and Harry. I mean, yeah, they live way across the pond and all, but Prince William and I are about the same age and we both went to University. He volunteers, I volunteer. I mean, it could be me marrying him. Except I was already engaged to Mr. Magic, so he had to settle for Kate. She's pretty, I guess.
Just kidding! I think they are soooooooo cute together and of course she is gorgeous! I'm really hoping they can keep their somewhat down to Earth attitude and relationship and really be a cool, happy, Royal and rich couple!
So here's how I imagine the Royal Wedding, Magic Style!
Wills was given a new "appointment" [read: got a promotion] back in January, which calls for a new, different uniform. He'll either be wearing a blue jacket or a red one...but I'm gonna say he's going to wear the red, since that is the uniform for the new honorary gig which the Queen herself approved.
Hat Not Included / Image via
UKate
Sooooo, I predict the bridal party members will be in a royal blue, similar to the color of Kate's engagement dress and engagement ring.
Crazily enough, I read several places that Kate might not wear a tiara and instead might wear flowers in her hair. That, frankly, is the dumbest thing I have ever heard of.
I am wearing a flower in my hair.
She
is going to be a Princess, or a Duchess, and has access to actual, legitimate tiaras...specifically
these
tiaras. [Note: She might not be able (by law or tradition or something) to wear a tiara into the church, since she is just a lowly commoner. But she definitely will wear one on the way out!]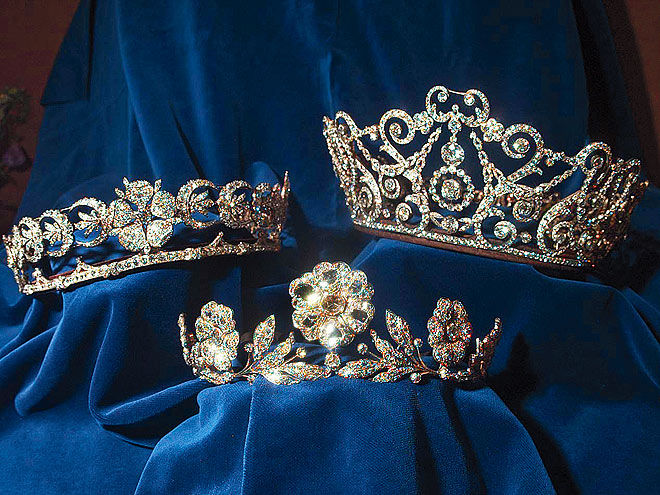 Apparently, there is also speculation and even bets placed that she might wear the Queen's own tiara, shown here at Princess Anne's wedding in 1973!
But I wouldn't count on it...the Queen Mum looks pretty attached to it here!
I think for sure Kate will wear her hair down, or at least half down, and will wear one of the smaller, daintier tiaras...nothing too tall. I like the middle one in the previous image the best!
As for the cake, we know from obsessively reading royal wedding blogs that they will have two cakes - one a traditional multi-leveled fruit cake (gross...maybe a "fruit cake" means something different in their language?) and one a cookie cake, requested specifically by Wills. I think the main cake will have five tiers and the cookie cake will resemble this!
The ceremony will be seventy minutes long, and she will walk down the aisle to something orchestral that I am not familiar with. I think her bouquet will be made of roses with classic touches from both Britain and Wales (although I have no idea what those individualized classic touches are...myrtle? heather?).
And finally, Kate's dress. I predict she is going to wear a dress that shows off her figure, especially her tiny waist, but still has a full skirt. Her dress will have sleeves but I can't decide between 3/4 length sleeves or full sleeves. Her designer will be Sophie Cranston at Libelula...I read that several places, including
here
, and I like it that she goes with a relative unknown. She'll have a ten foot long train and cathedral veil of the same length.
Gown sketch by Monique Lhuillier via
Shine

And even though I have heard that Wills and Kate want Beyonce and Jay-Z to perform at their rockin'night reception, I think there is a snowball's chance in hell of that actually being true...or happening.

What do you think of my Magical Royal Wedding?